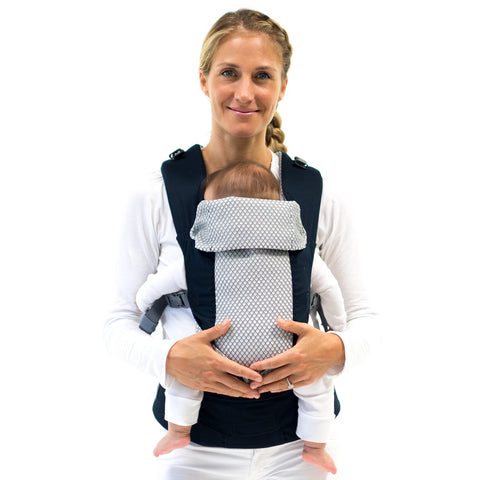 Beco Gemini Cool Baby Carrier - hire
This is a hire carrier. After you've placed your order, we'll send you an email to arrange payment of the refundable deposit. The deposit is £50 for the Beco Gemini Cool.
Just like the popular Beco Gemini Baby Carrier, but in a cool mesh fabric! We love how simple the Beco Gemini Cool Baby Carrier is for young babies. The cool mesh in the Beco Gemini Cool makes it perfect for spring and summer days out.
The Beco Gemini is Beco's first baby carrier with the option to front carry as a facing-out carrier. It's a 4-in-1 baby carrier, offering four comfortable carrying positions. You can position your baby in the normal front facing in position, or facing out, or in a hip carry or in a back carry. The Beco Gemini Baby Carrier is one comfortable, practical baby carrier with a definite sense of style.
The Beco Gemini Cool is certainly true to its name, it's all about the options you have.  You no longer need to scrutinize over one or the other, nor do you have to use all of the carrying options offered. We are all unique, your baby is unique, and only you know what feels right for you.

The Beco Gemini Cool Baby Carrier features a supportive waistband. It has wide padded shoulder straps, that you can wear backpack style or crossed on your back for discrete breastfeeding and better weight distribution. You can flip padded headrest on the Beco Gemini Cool up for neck support, or fasten it down with snaps. When your baby is ready to face out (older than 4 months, while awake, and for short periods of time), the headrest on the Beco Gemini Cool Baby Carrier also serves as a padded spot baby's head or chin to rest against.
The Beco Gemini Cool works well for newborn babies, and will support your baby until 18 months. We love how easy it is to use! It's super comfy and keeps your precious bundle close to your heart!
Ideal from newborn, with no tricky inserts needed. Suitable 7-35lb.
Product Features:
Head support, folds and buttons down
Tall, wide body, supports growing baby
Waistband and shoulder straps are navy blue
Wide, padded waist belt for lumbar support
Wide, padded shoulder straps for ultimate comfort
Adjustable chest strap for even weight distribution
SAFETY BUCKLES prevent accidental opening
Width alternating base to accommodate small babies & forward facing-out position
Waist belt adjusts from 28-57"
EN13209-2 Soft Carriers Certified
---
We Also Recommend
---