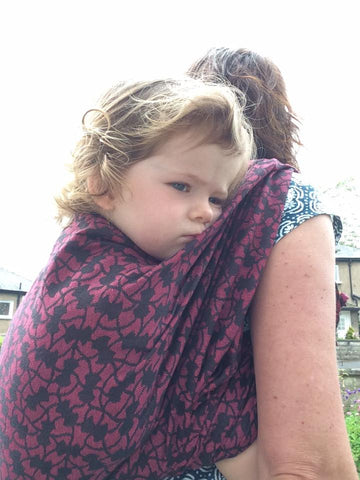 Yaro Woven Wraps - Ivy Fuchsia-Black limited edition SALE
Yaro Ivy Fuchsia-Black is exclusive to Koala Slings! And with limited stock, don't miss out!
Ivy Fuchsia-Black is more of a light burgundy and black than pink, and is a beautiful 100% cotton woven wrap. It's soft after a wash and a couple of uses, and suitable as a baby sling for newborn babies or supportive enough for toddlers.
We only have a few sizes left in stock of the Ivy Fuchsia-Black, from size 5 (4.2 metres) right up to a size 7 (5.2 metres).
We include free, fast UK delivery on orders over £30.
Simple yet striking patterns, vibrant colours, and at an affordable price! Yaro Slings woven wraps have lots of great reviews, and are an affordable way to start wrapping your baby. Yaro Slings are based in the Netherlands, and all their slings are made in the EU.
---
We Also Recommend
---