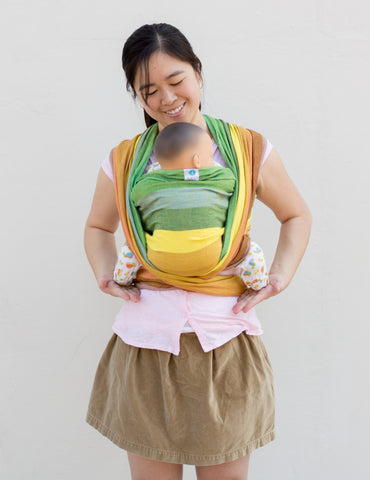 Soul Handwoven Wrap
There is something really special about a handwoven baby sling. Nuances in the way the warp and the weft behave together, and knowing that someone has lovingly crafted this woven wrap for you to carry your baby in.
Soul Prism Handwoven wraps are beautiful rainbow wraps! They are 100% handwoven cotton in twill weave, and of medium weight. Soul handwoven wraps are an incredibly affordable way to try a handwoven baby wrap for yourself.
Soul woven wraps are long, rectangular lengths of fabric that are wrapped around a baby and its caregiver. They promote skin-to- skin contact, help carers to bond with their baby, and are perfect from birth to the toddler years. They provide you infinite carry possibilities and offer perfect support for your child as well as comfort for you. A gently loved wrap will last you more than one child.
Soul Prism handwoven wraps are entirely handwoven by experienced artisan weavers in India. They are woven in government run co-operative societies, who are committed to fair-trade and ethical production. They are designed and finished in Soul's studio in Bangalore, India.
Each Soul prism wrap has a unique rainbow colourway with rich, deep and understated shades of multiple colours. They come in elegant stripes, and are timeless beauties! This classic design never goes out of fashion. 
Soul Prism handwoven wraps and baby slings are made to be worn and loved by everybody too. They are medium weight wraps, which makes them work for most age groups. They are also very easy to maintain and are sturdy, as they are 100% cotton. Soul handwoven wraps are light, airy but supportive. Prism handwovens will get softer with each wash and only get better with use.
Soul woven wraps are 100% cotton. They're easy to care for, and you can pop them into the machine on a gentle cycle to wash.
Soul use only the best quality baby-safe dyes during their manufacturing, and importantly -  no child labour is involved at any stage of the production of your Soul sling.
Your Soul woven wrap is ethically made by Soul in Bangalore, India.
Before using your new Soul wrap
* Please wash and iron (warm setting) your Soul sling once before use. Wash it separately from other items for the first few washes as the colours may bleed a little.
* Sizes mentioned are after washing. Please note that the wraps are generously sized, as there will be shrinking for the first few washes.
* Soul fabrics may show colour variations, loose threads, tiny slubs, snags or unevenness that are characteristic of natural fibre textiles. These variations should in no way be considered flaws or defects as they do not affect the functionality of the carrier. It is the nature of the fabric and these imperfections highlight its natural beauty and uniqueness.
* All images in this website are for representation purposes only. Please be aware that the final product in hand may have slight variations in colour and texture when compared to the product photo(s) in this listing.
Our Soul woven wraps and baby carriers come with FREE UK shipping, and good rates for Europe! We've paid the customs charges and VAT already, so you won't have any unexpected invoices arriving after you order!
---
We Also Recommend
---