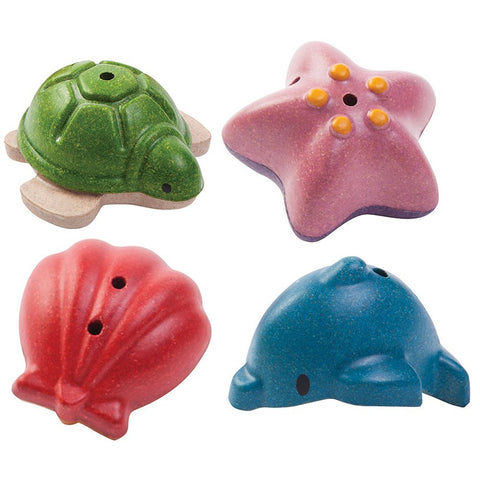 Plan Toys Sea Life Bath Set
You can really splash and make waves in the bath with this Plan Toys Sea Life Bath Set! The fun never ends! We love all the ways that your child can find to play with these Plan Toys Sea Life Bath Set toys - float them on the water, fill them up, and then squirt the water out.
Your new Plan Toys Sea Life Bath Set comes with 4 sea animals: Shell, Starfish, Turtle, and Dolphin. Your child will look forward to bath time as they can splash and play to their hearts content.
Safe to play with and to chew on. Suitable from 6 months, until a lot older!
Your new Plan Toys Sea Life Bath Set is made by Plan Toys who have been making environmentally friendly educational toys for over 30 years. Plan Toys fun products will make children's creative imaginations run wild and free, leaving them to express their creativity using these sustainable toys.
Each toy is made using eco-friendly, sustainable, and high-quality materials, and are ethically made in Thailand.
The whole product is safe and super child friendly using organic colour pigments and watercolour dyes. The toys even come in recycled, non-toxic packaging which you can pop straight into your recycling bin!
Dimensions - 7.1 x 4.8 x 6.2 cm
These toys are recommended for use in fresh water only. You should dry them after every use.
---
We Also Recommend
---