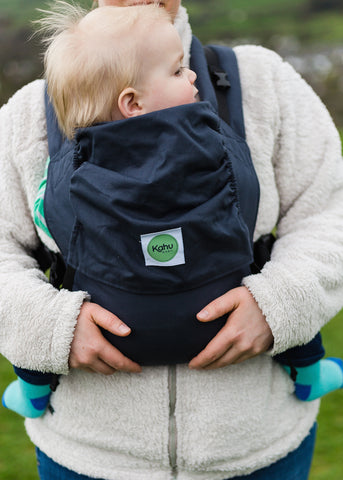 KahuBaby Carrier - Slate
I'm so proud to introduce you to our very own carrier, the KahuBaby Carrier! So much time and love has gone into bringing KahuBaby to you - it really is the perfect baby carrier from birth to toddler!
KahuBaby is all about Simple Togetherness. KahuBaby brings you Simple Togetherness in 3 easy clicks.  The secure buckle fastenings, moulded in Italy, make carrying simple for everyone. The comfortable KahuBaby Carrier offers complete support in 4 carrying positions, giving you options for all stages of your baby's development.
With 4 carrying positions, KahuBaby offers versatility to enable you and your child to simply be together:
Front carry
Front facing outwards
Hip carry
Back carry

Suitable from newborn, the KahuBaby Carrier adjusts easily to comfortably hold your baby in an ergonomic position. KahuBaby's unique  cinching mechanism is designed for total adjustability, with a built-in comfort stopper. This means safe and comfortable carrying with babies and with toddlers.
With its flexible waist, Simple Togetherness with your child is just a moment away.
For babies 4 months and younger who may need additional head support, the KahuBaby Carrier features a simple upper adjustor. This is a design feature of your carrier, and ensures that the top of the carrier is a snug fit for your child. We find it easiest to narrow the width of the top part of the KahuBaby Carrier before putting your child into the carrier. Once you've adjusted it for your child, you can leave it in place at that setting, ready for your next use.
The unique lower cinching adjustor makes it simple to face your child away from you (from 5 months onwards) if your child is more comfortable in that position. We recommend facing away from you for short periods (up to 30 minutes at a time), and only when your child is awake. When your baby looks sleepy, turn him/her back into your torso for comfort and security.
KahuBaby Carrier in Slate is made from 100% certified organic cotton.
Learn more about the KahuBaby Carrier here

Technical stuff
Maximum weight of child – 16kg (35lb)
Minimum weight of child – 3.2kg (7lb)
Safety tested to CEN/TR 16512:2015
Width at base – 34cm
Height – 50cm
Waist maximum – 142cm
Shoulder strap maximum – 100cm
Shoulder strap minimum – 39cm
Hood – 25cm width at base x 28cm height
KahuBaby is designed in the UK, and made in the Czech Republic.
---
We Also Recommend
---
A must buy!
After trying several (5+) carriers through Coorie in with Love (baby wearing specialist) and trying friends, I finally found 'the one', the Kahu Babycarrier.
Super lightweight - it rolls into our baby bag so we always can have it with us.
VERY comfy - no more sore shoulders and backs.
Baby feels very secure and it takes absolutely no time to clip baby in. Love it! Price is affordable compared to lots of other 'big brand' carriers which don't even come close to this.
You've made my week with your wonderful review! Wishing you lots of hands-free snuggles with your little one.